Boating experience is not necessary to hire one of our narrow boats for your holiday. Before beginning your holiday, we will provide full instruction on handling the boat safely, and operating the swing bridges and locks so that you feel comfortable and can relax and enjoy your holiday. We are also on hand should you need help or advice throughout your stay.
Our narrow boats are all well equipped, providing everything you need to make them the perfect choice for your family holiday or spending some leisure time with friends.
Tuition, Fuel, Gas, Bedding and Towels are included in our rates.
NARROW BOATING THE RIVER AVON
The River Avon is a South-Westerly River, spanning almost 100 miles from Naseby in Northamptonshire to the River Severn in Tewkesbury. The River takes boaters past picturesque country estates, old churches, riverside inns and water mills, with villages steeped in British history.
From our base in Pershore you can explore upstream towards Stratford Upon Avon and onto the Canal System. Downstream heading towards Tewksbury there is plenty to experience, connections to the River Severn.
All Our Boats are licenced by both the Avon Navigation Trust and Canal and River Trust allowing you the freedom to go further afield with no restrictions or costs.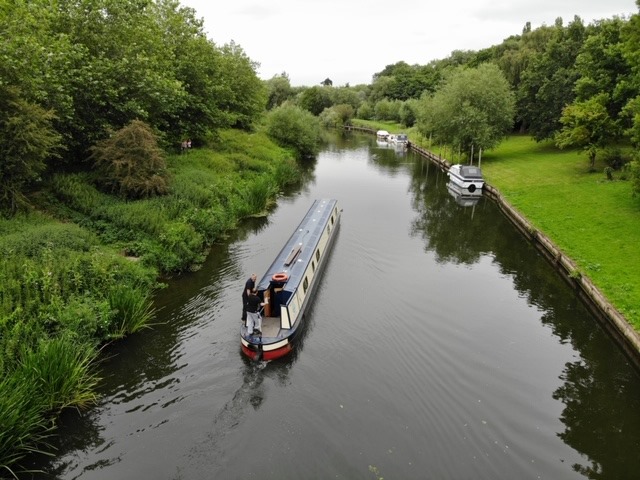 WE HAVE 4 FULLY EQUIPPED NARROW BOATS TO OFFER:
All of our beautiful narrow boats are available for rental periods of 3-14 days.
WHY CHOOSE AN AVON VIEW MARINA NARROW BOAT?
FREE parking is provided at our Marina.
All narrow boats have central heating, and fuel and gas is included within your holiday price.
Free welcome pack upon arrival.
Our narrowboats are pet friendly.
If you are arriving by train we can collect you from the station – all we ask is that you pre-arrange your collection time prior to the date.
We can also assist in supermarket delivery before you depart on your cruise.
You are welcome to bring fishing rods, bikes, inflatable toys and anything else you would like for your holiday.
We have a 24/7 helpline should your run into trouble and need assistance or advice.
All our narrow boats are equipped with a kitchen, a comfortable seating and dining area, and a number of bedrooms – with convertible seating in the living area for additional beds.
Our narrow boats are also fitted with clean and functional modern bathrooms.
The living area is equipped with a TV/DVD player, a radio, and USB charging points.
All bedding, pillows, and towels are provided at no additional cost.
Lifejackets are provided on request.
Cleaning Products and Toilet Rolls are provided.
Each narrow boat has outdoor seating areas in both front and rear.
We are passionate about narrowboat holidays and have all the experience necessary to ensure that you love it as much as we do.